Hipshops Interview: Carole & Clarent Delhouz of FrenchTrotters
Carole and Clarent Dehlouz started FrenchTrotters as an extension of their passion for traveling and for discovering interesting local items in their journeys. Alongside this smart selection that they have put together for the store, FrenchTrotters has recently materialized into a clothing line, also run by the inspiring duo. We've asked a few questions about this project's history, their approach on the retail business and the FrenchTrotters vision. We've learned about timelessness in design, dedication to perfection and the ongoing communication and commitment to one's values.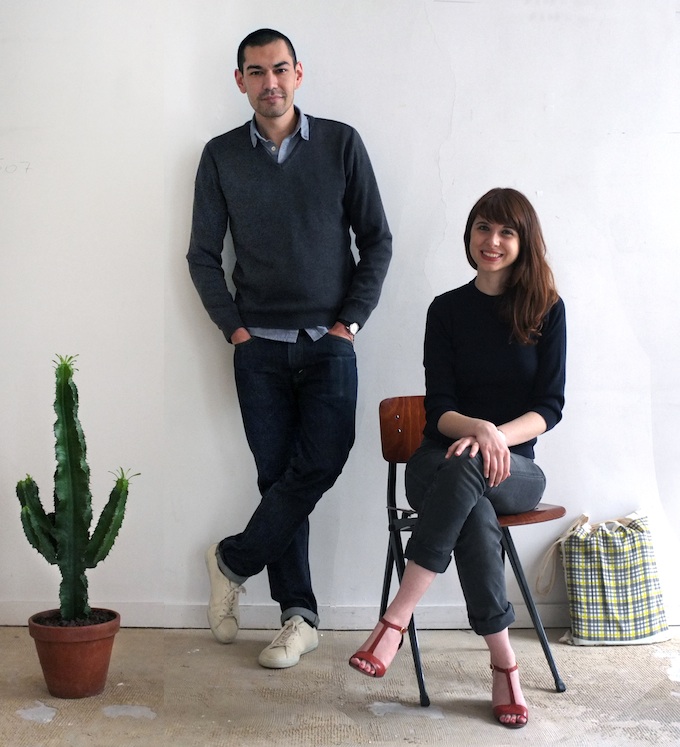 HS: Le Marais represents Paris' centre of fashion & art of a certain feel or flavour. You've recently moved into a new space near your previous one. How did you choose this new location? 
FT: Three years after setting our first store in the Bastille area (2005), we opened a men's store in le "haut" Marais* district in 2008 which quickly became very successful. The area and the people really fitted with our spirit and concept. We feel Le Marais is really the best neighborhood for us in Paris. So we naturally wanted to find a bigger space that could host our men and women multi-labels selection as well as our in-house label. We eventually found a huge 200 sqm space. Big enough to also host a homeware section, which we wanted to have for a long time. (*Le Haut Marais is the higher part of the Marais, located the 3rd district. It's very different from the 4th district part of Le Marais which is a lot more mainstream and crowded. Le Haut Marais is a lot more chic and refined with more high end stores which started to emerge 4 years ago.)
HS: Do you consider your clients to be specifically connected to this area as a symbol or embodiment of hipness/coolness?
FT: We certainly have a hip and cool crowd coming to the store. However we try to avoid being too "trendy". We like the idea of welcoming a mix of very different people. Our neighborhood regulars for example are very low profile. They like nice quality products, but keep an effortless and understated style. That's the spirit we like.
 HS: You've recently added a new dimension to your previously owned business. The FrenchTrotters clothing line. To what degree do you and Carole involve yourselves in the design process? What do you consider to be specific for this line, the main qualities you focus on?
FT: FrenchTrotters clothing line for men and women started 2 years ago. Carole and I are involved 100% in it, from the design to the production. We focus on clean garments with a particular attention to quality and fits. We always use the nicest fabrics. The main line is crafted in France (Paris and Brittany). We have a second collection that is crafted in India where we are able to do our own prints, dyes and embroideries. Craft is always important and we want the collection to feel very authentic. For the first year the products were sold exclusively in our stores. The line is now open for distribution and is being stocked in a selection of very nice stores around the world.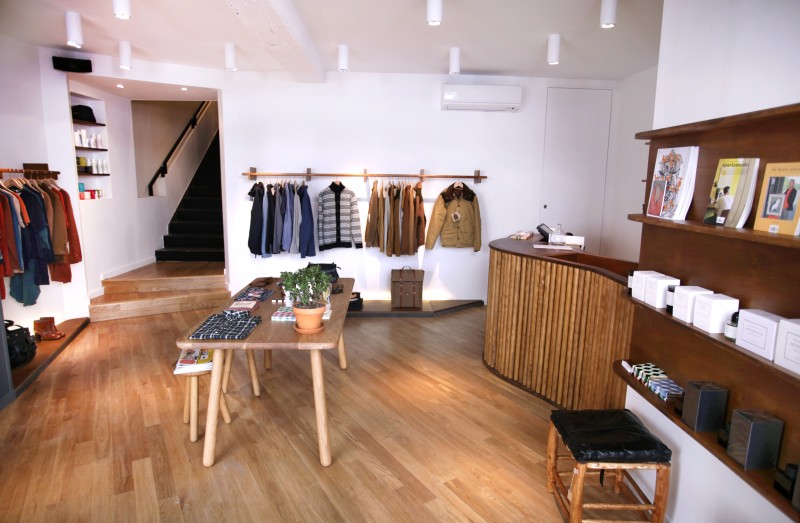 HS: How do you choose to promote the FrenchTrotters shops? What kind of communication tools do you use?
FT: Our best means to promote our shops is first to give our customers a great shopping experience. Nothing can match the word to mouth from happy customers. And of course we also strongly focus on all internet tools which give us the ability to interact with our customers from all over the world, via our blogs, Facebook, twitter, Vimeo, Instagram, etc. We post news, images and videos daily. In addition to developing an extra business, our online shop is also an amazing window for a worldwide audience.
HS: Both you and Carole have a photography background. How did you switch to the retail business?
FT: We didn't really switch actually. They both combine very well. Photography is a tool we use to capture what we like and to develop our own esthetic. That is exactly what we do with retail. Since we launched our first store 8 years ago, our work has always consisted in curating things we like and nicely displaying them in our stores, creating our own visual identity.
 HS: We've noticed you started selling more interior design pieces and you've introduced new brands like "Another Country". Do you intend to grow on the design objects' category? 
FT: Even if clothing is our main activity, we have always seen FrenchTrotters as a global lifestyle environment that would combine all our passions. Interior design has always been important to us and we are very happy today to have found a space big enough to develop this field. This new homeware corner is a first step and there will certainly be more projects related to it in the future.
 HS: Since you're activating in a certain fashion niche where the client/staff relationship is not an ordinary one, what do you choose to deliver when training your staff in order to successfully preserve French Trotters' vision ? Do you come into contact with your clients regularly? 
FT: The relationship with our customers is very important. We want people to spend a good time in our stores which starts by a warm welcome and good advice. Each product we sell has a story so it's important for our staff to talk about it. We only recruit passionate people. And of course we spend a lot of time ourselves in our shops and we know our regulars. That's very important.
HS: Do you shop in Paris? Which are your favourite stores?
FT: We like to spend some time at Le Bon Marché which has a nice grocery and a very good bookstore and design department. We buy plants at a little cactus shop near the Marais store called Les Succulents Cactus. We also go at Truffaut for our little kitchen garden in our apartment balcony.
HS: How would you spend your day in Paris? Where do you enjoy going?
FT: We like to go out in the morning to get a good breakfast in a café. When we have free time, we go at the Jeu de Paume to see a photography exhibition, or watch a movie at the MK2 Biblothèque. When it's sunny we like to walk in Les Buttes Chaumont. We also enjoy simply hanging out at home. At night we go for a drink with friends at Candelaria or Clasico next door. And then we go for dinner at l'Office, Vitelloni or Le Floréal. When we feel in a more gastronomic mood, we book a table at Le Chateaubriand or Septime.
 HS: Is there any store in the world that you've found inspiring for your type of business?
FT: We travel quite a lot and and visit a lot of inspiring stores like Biotop and Art & Science in Tokyo or Hunting & Collecting in Bruxelles. But we are more inspired by places than shops. La Grenouillère in the north of France. Bardenas in Spanish desert and the Aire hotel. Also Capri and Puglia in Italy. The landscapes of Morocco. And of course New York. We try to bring back a little bit of all these atmospheres into our Parisian stores.