Hipshops Interview: Mathieu de Ménonville of Melinda Gloss
Melinda Gloss have opened their second store in Paris, on the Left Bank this time. Given the occasion, we've asked a few questions on the subject and not only to Mathieu de Ménonville, half of Melinda Gloss alongside Rémi de Laquintane. We've received some interesting, elucidating, humorous and most of all unsuspected answers in return.
Enjoy!
HS: Based on empirical observation one could state that there isn't much of a connection between philosophy and fashion. So how did you and Rémi, two philosophy students, come up with the idea of creating your own fashion brand?
MdM: Both fashion and philosophy are about beauty. But the Melinda Gloss project came mainly from a need to approach fashion as outsiders. We wanted to promote a french lifestyle that includes fashion, but that is not restricted to it. Most of our clients work in creative industries, they love beautiful things but don't want to look as models on catwalks.
 HS: Since we couldn't find any obvious association ourselves between you and your fashion persona we have to ask: who is Melinda Gloss?
 MdM: She's a mystery. When we created Melinda Gloss, we didn't want the brand to carry our own names. Melinda Gloss is a fictional character we created, like one would create for a script or a novel. And we definitely wanted to bring a woman along in this men's world.
HS: The Left Bank is a reminder of the bohemian Paris, a part of the city reserved to artists, philosophers, writers and students. You've recently opened your second store there, across the Seine from the first Melinda Gloss store. What was the idea behind this move?
MdM: There is definitely a lack of contemporary and creative fashion for men on the left bank (although it's moving in the right direction). But most importantly the Left Bank matches with our history and identity. Since the creation of Melinda Gloss, we've been involved in collaborations with writers, movie makers, artists. Melinda Gloss' lifestyle is very Saint Germain, and the Left Bank has indeed always been a place where creative minds and intellectuals meet. That's the main reason of our choice, and when we had our first fashion show in January, we also chose to have it at Place Saint Germain des Près.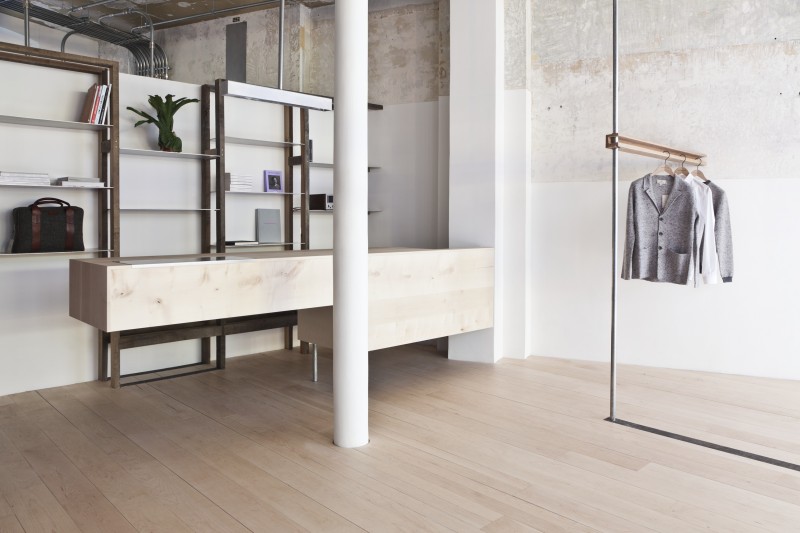 HS: To what level do you involve yourselves into the creative process of the clothing line? And what influences your choices on that matter?
MdM: 100%. We do all the styling and art direction ourselves. Influences are very eclectic: an Eric Rohmer movie, an artistic interpretation of madness, the past, the future, it could be anything. But at the end we just do clothes that we like to wear.
HS: Did you work with a specialised agency for the branding and imagery part? What about the interior design?
MdM: We did not work with any agency for the branding, as for us the brand must be the prolongation of ourselves. For the shop of course we collaborated with architects (Cigüe). They are a young collective of creative guys that have a strong sensibility to textures and matter.
HS: Do you usually spend time in your stores? Do you enjoy coming into contact with your clients, in the manner of the typical parisian shop?
 MdM: In fact before we opened our first shop, we received clients directly at the studio, on appointments. So we met all of them. Of course now we can't spend our days at our shops, but we're there very often. We have a made to measure service that we still handle ourselves.
 HS: How do you choose to deliver the Melinda Gloss vision to your audience? What kind of communication tools do you use?
 MdM: To us communication is a consequence, but not a goal. We like to organize events that bring something different. A fashion show is really exciting, as it presents our work with a scenery, with music, emotions. But we also like to do things outside of fashion. We have our own cine club for instance. We've recently received at Beaubourg for a preview Michael Cimino's Heaven Gate, and we invited Cimino from LA to introduce his film, along with Isabelle Huppert. For the occasion and as a tribute to Cimino's work we designed a T-shirt, currently sold at Colette. We have an on-going collaboration with Christian Bourgois Editeur, a historical publishing company. We're working on a project with a Cognac Brand, we're making a special bag in collaboration with Cigüe for a special event in Tokyo… We believe in creative synergies among people from different fields.
 HS: Do you shop in Paris? What are your favourite stores?
 MdM: I shop when I travel, in Paris I drink.
 HS: How do you spend your day in Paris? Where do you enjoy going?
 MdM: Left Bank: drinks at le Bar du Marché, le Café de la Mairie, la Castor Club or le Café de Flore, conference at le College de France, dinner at le Bistrot de Paris, girls in le Montana. Right bank: cinema at le Nouveau Latina, tacos at La Candelaria, drinks at the W, dinner at le Cercle Interallié, girls at les Chandelles.