Interview with Jack Pattison, co-founder of Freddie Grubb
It hasn't been too long since British brand Freddie Grubb opened its doors on London's Amwell Street, a fresh and funky shop front in a somewhat residential area, with plenty of lovely independent stores. Named after the maverick pioneer of British cycling, a Freddie-Grubb-signed bike is a contemporary take on the traditional bike: a piece for those with a modern sense of the road, willing to add a drop of style to the everyday cycling. And there's more to this shop's story: here you'll find a curated selection of accessories and home furnishings, all in the same refined style. Here's our chat with co-founder Jack Pattison, giving us a look behind the scenes of his store.
HS: How did Freddie Grubb grow from an idea to an actual store?
Freddie Grubb has been a labour of love. What began as a silly conversation in the pub soon snowballed into a genuine business opportunity. We got heavily involved in every aspect and detail of the bike which meant the design and prototype stage took 12 months longer then we expected. This was really valuable time in which to hone the design. Having a stand-alone shop is really important for us as a start-up bicycle brand. Customers can come and be fitted correctly, test ride the bikes and give us their feedback. It's also essential to have a somewhere convenient where we can offer servicing and after sales support.
HS: How did you pick Islington as an area to open up your shop and what would you say Freddie Grubb adds to the district?
We run business from the shop so it was important we had a shop that we could work in as well as sell bikes from. We always wanted it to be a destination shop, somewhere easy enough to get to but also quiet enough for customers to enjoy test rides safely. Amwell St. is a charming Georgian parade of shops – it ticks all the boxes.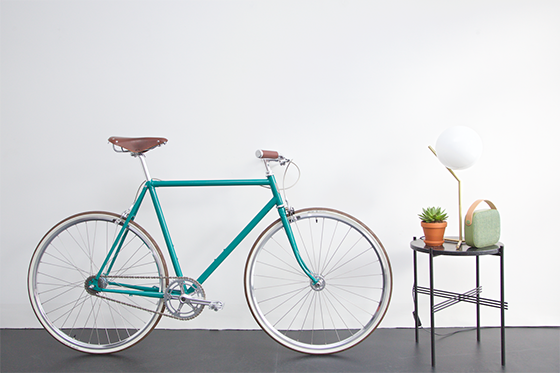 HS: Tell us a little bit about your design approach: your references and inspiration.
We set ourselves the brief to design a bike with a comfortable, clean frame that will ride really well.
The designs are all inspired by classic 50's British road frames but with a modern geometry. Once we established this, we could focus on the details – which are really important to our design ethos. We stripped back anything unnecessary and focussed on elements that some major manufacturers leave as an after-thought or add on.
HS: Who produces your bicycles?
Each Freddie Grubb bicycle is built to order with care and precision, one at a time, by our mechanic Gordon. Building them in this way means that we can be flexible and make small changes and customisations if necessary.
HS: How would you describe your clientele? What are the main reasons someone choses to buy a Freddie Grubb bike?
Our clientele are design conscious and generally people who have an eye for detail that are willing to pay a little bit more for quality. People who understand the merit of paying a little bit more for something that will last. There are 3 main reasons for buying a Freddie Grubb. Quality, Comfort and style. Why compromise?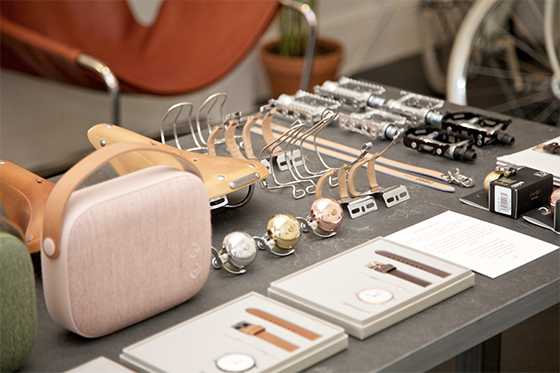 HS: How do you curate the other items in your shop: where do they come from?
We have a few choice partner brands we work with all of whom share the same design ethos. Detail and quality.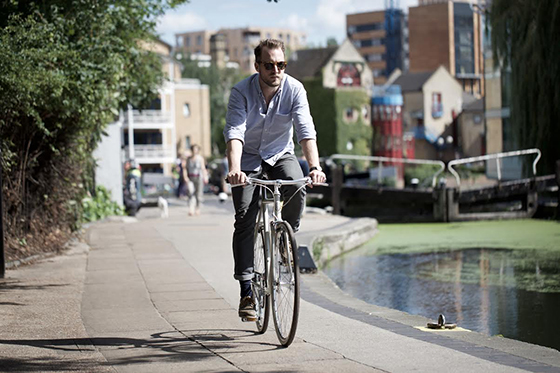 HS: What's your idea of a favourite ride across London?
Easy. Starting at the Freddie Grubb store in Islington, dropping down onto the canal and following it all the way to Crete Brewery in Hackney Wick. Its a beautiful car free route with plenty of opportunities to shop on the way. There's an amazing cafe called Towpath that serves the best coffee where you can sit on the side of the canal and watch other bikes go past. After that there's Broadway Market, Victoria park, the Olympic park and finishing at a Brewery that also make the most incredible pizzas. Fortunately it's not far for me to roll home afterwards too.